Urban Street Style created by Sim Fit Letterman Jacket is Redefining the Collegiate Trend
Once upon a time, the varsity or letterman jacket was the ultimate status symbol for college athletes. Fast forward to 2017 and the once status distinguisher is now the legit alternative to your standard jacket.
The urban street style created by slim-fit Letterman jacket is redefining the collegiate trend and this surely suggests that this trend is not going to die down so easily. Browse through the styling tips below that tells you how to bring in varsity for any occasion.
Nelus Men's Stand Collar Slim Fit Lightweight Varsity Baseball Jacket
Inspired by biker's collection, now you can don the varsity biker jacket and you can grab this collection at pocket-friendly prices. The varsity-style biker jacket has slim-fit long leather sleeves and pockets on both sides. You can team this up with boyfriend jeans for the everyday look.
H2H Mens Slim Fit Varsity Baseball Bomber Cotton Lightweight Premium Jacket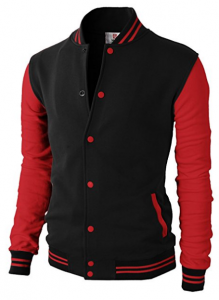 If you want to take the nostalgic path, pair your traditional red and black shaded slim fit letterman jacket along with acid-wash jeans and converse. Get the look that is definitely from the '80s that saw the birth of varsity. Features like the button snap closure and slim fit are ideal for accentuating your athletic physique.
Womens Active Fleece Letterman Slim Fit Baseball Varsity Jackets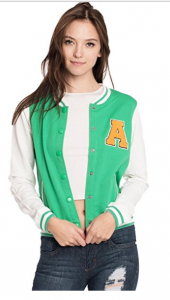 Now the lady in the image is surely flaunting a sporty look. But, go bold with green and wear your hair down with a pair of dangle earrings. If earrings are not your thing, the bold necklace would do the trick. Try out and envy your girlfriends. The ribbed neck, elastic waistband, and ribbed elastic cuffs guarantee a comfy fit. Try it out today.
Jogal Mens Zip Up Stain Contrast Colors Varsity Baseball Bomber Jacket
Add a preppy sporty vibe to your outfit and look uber cool when you pair it with high-fashion clothes. Team your slim fit white and blue varsity with joggers and crew neck graphical or plain tee. Pull off the look with sports shoes or converse perfectly.
Paul Jones Slim Fit Cotton Lightweight  Varsity Baseball Jacket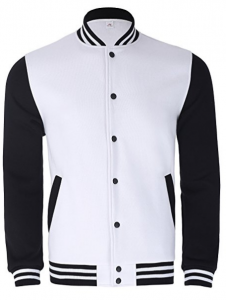 The pure white color of varsity attracts anyone's eyes. So, merely to adapt to it, you can pair this all-season slim fit letterman jacket with a black or gray T-shirt and light blue denim. For a sophisticated look, wear brogue boots and you are set to hit the party.